I built this website to promote one of the things that I enjoy doing "pioneering"

My name is Alan and my first introduction to pioneering was as a scout, its something I have never grown tired of . when I was re introduced to scouting back in 1998 as a scout leader its something I decided to specialize in. I have also started a not for profit youth organization the Adventure Pioneers, website https://adventurepioneers.uk/ use this LINK to contact them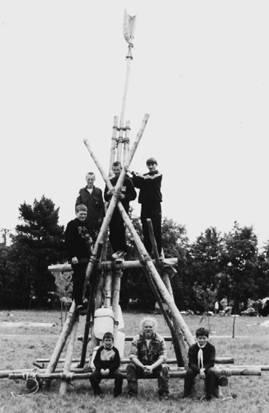 Spot the webmaster in this picture

Alan is over 60 years old and has a wealth of outdoor experience to call upon, but explains you are never too old to learn something new. He has been delivering experience-based learning for over 25 years, and has a long and varied history of green filed camping and backwoodsmanship along with pioneering.

He has appeared on television and radio on a number of occasions representing, or supporting, the award winning teams he has trained. He was also the team leader that trained a number of young people in pioneering to gain a world record by building a trebuchet using pioneering poles with a power output of 1,240 lb.ft. In November of 2010 he started an outdoor learning business called Acorn4th teaching Pioneering, Backwoods, and Bushcraft, for Individuals, Youth groups, Schools and Management. He is a strong believer in the advantages to be gained by doing things outdoors, its a great way of bringing people together and acts as a leveler.

Alan explains pioneering can open up a completely new world for your students, its something they can all do together without a great deal of space or equipment, all you have to do is make it equally challenging and interesting and they will have lodes of fun doing it. One of the greatest tributes you can get as an instructor is, when a group of young people say to you after having completed for the first time a pioneering challenge "that was brilliant" I wish our Leader/teacher would do things like that with us! Well what's stopping you? Start simple and gradually work your way up to larger projects, learn to walk before you can run, and your confidence will grow as you become more competent. "Put the fun back in pioneering"
You can use the link below to access a publication I did for the Institute for Outdoor Learning

I have use pioneering to make other subjects more interesting, it has great appeal for younger people whose talents are more practical than academic, I have incorporated things like simple mathematics, geometry, quantities, distance, and height. I can then ask them to describe how it was made, what materials were used, or draw up some plans to show others how to make one. they could consider how the weather would affect what they have built, wind, rain, sun, where could you build it, and who would use it, there's lots of other ways pioneering can be used in education, the main consideration is the suitability of the project in comparison to the ability of your students, remember its got to be sufficiently challenging and not to complicated don't make it boring.
What you need is an inspiring challenge to get them going, perhaps a medieval catapult, a bridge or tower, and as with most things make it interesting.
Team-Building Corporate Days using Pioneering
Pioneering is also perfect for developing team building and leadership skills. We use a number of different problem solving scenarios, that are both challenging and adventuresses to promote, positive interpersonal development. For more information regarding the different services we provide, contact us to discuss your needs and requirements.
The purpose of all the articles within this website that contain instructions, advice, or how-to content is to present facts, and not to train. if you are interested in doing pioneering you could contact Adventure Pioneers who also do pioneering training by using this LINK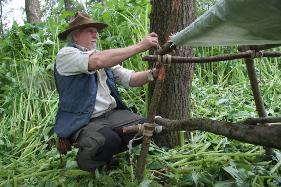 On the left Alan is doing what he likes doing best "playing out" and combining pioneering with backwoodsmanship, he is building a bed to use under his basher on a backwoods weekend.


You can use the contact page to ask Alan a question and he will answer it if he can

.


Copyright © 2013
pioneering-principles
All Rights Reserved